I know a lot of people have their reasons why they cannot travel whether it be time, money, etc. It is not something that is accessible to everyone but if you do find yourself having this opportunity, I cannot stress how important it is to take yourself outside of your everyday environment. I have been back in New York for a week now after traveling for two months. Towards the end I kept saying how I was ready to come back home but now being back I would do anything to have kept going. I am so privileged to have gone for the amount of time that I did and I am grateful to all the people that welcomed me into their homes during this trip.
I think we are able to learn more about a place by talking to the people that live and work in those areas. You witness it through their eyes and in their routine. I was able to see so much more because of this, more so than if I were to have just gone by myself. The beginning of my trip was to participate in an art residency in the south of France for two weeks and the rest of the time was spent visiting friends and family. I could write about all the things that I saw but it would be too difficult to summarize eight weeks into this already lengthy post. As I was writing I kept thinking what do I want to talk about. My thoughts kept going back to all the people I met and those I was able to spend time with. So this journal entry is more of a thank you letter to a few people and maybe through that you'll be able to see part of my trip.
ELOISE
The title of this entire post is something that I learned from your book where you illustrate your experience in creating the residency. At one point you mention how twice in the same day someone told you Qui ne tente rien, n'a rien. Which I think sort of translates to "nothing ventured, nothing gained". This saying is something that I thought about throughout the rest of my travels. When I arrived to the residency I was not entirely sure what to expect but my stay in Sainte-Valière was better than I could have imagined. The house itself, the other residents, the people I met in the village, and those surrounding Sainte-Valière all made my time there really special. I think there is a generosity to people who live in small villages. In that they value personal encounters in a way other people may not. There were a few nights where everyone would go to bed after dinner and the ones left would be you, Antoine and I. I'm thankful for these late night conversations about music, film, art, language and almost anything else we could think to share. I have a lot of admiration for you and your perseverance in creating Hôtel Sainte-Valière into what it is. I think all the residents can attest to how much you care about the residency as well as how it represents the village. More than this, I respect your ability to admit when things can be better and your openness in asking the opinions of those you want to cultivate the best experience for. At this rate, I predict the residency will continue to grow greater than it already is.
JONAS
I would not have been able to see as much as I did if it were not for you. When you picked me up from Arras we didn't really have a plan of where we were going or where we would end up but you left it up to me to decide. You were willing to drive so many hours in a day without hesitation and because of that I was able to see my brother in Czech Republic, my uncle in Spain and my cousin in Belgium. Still, the trip was not without setbacks which we experienced when the car broke down in Avignon and we were stranded for the night. That day when we were stranded while everyone was stressed out, you bought a deck cards so we could play to pass the time until we had a solution. It was a small gesture but I'm thankful for it. You had all the reason to be the most stressed but you didn't show it for our sake. I really hope that I have the chance to travel with you again.
CARSTEN
We were at Rembrandtplein when you told me that if we were gonna make the last train back to Haarlem that we should have left already. We took an uber to catch the last one but we were dropped off a bit outside of the station. You had me run non-stop until we were both sitting inside the train, panting. You were laughing and I wanted to laugh as well but my mouth was so dry I could barely get a word out. I remembered something your mom told me earlier that day while we were sitting in the kitchen after she picked me up. We waited for you to get home from work and we talked about a little mishap involving you back in February while you were in New York. I mentioned how you had the ability to charm your way out of things and your mom said "that boy was born on a Sunday." Besides you actually being born on a Sunday, she told me that this is a Dutch expression for people who have the habit of getting away with things and the description was fitting. Last year when I was in the Netherlands I only saw Amsterdam and I was sort of lost in the things I think most people do when they visit the city. This time around I was able to spend some time with an actual Dutch family and see other parts of the Netherlands. Eating dinner in Bloemendaal and seeing Haarlem and Utrecht, were even better than my time in Amsterdam. You and your mom were incredibly accommodating and I'm glad I got to see a different side of the Netherlands because of you two. Thank you so much for your trust in me and the freedom you both gave me.
DANIELA
Visiting you in Brussels was the first time that we truly had a conversation together. Of course not literally but you were my older cousin and I was very much a kid all the times you visited New York and I was in Ecuador. Then when I went to Ecuador in 2015, you were married, had your first daughter and we didn't have the chance to really talk then either. Now you've been living in Brussels for a year and you have two kids. The thing I never really knew about Brussels is how much of a cosmopolitan city it is. Besides noticing this through their three national languages, seeing flags from different countries hanging from windows and finding a place to eat Ecuadorian food with you, I recognized that quality of the city in your children. You have only been living there for a year but their feasibility to switch from French to Spanish and vice versa, is really impressive to me. Both of our families are really large and I think I have always fell back on that support system, of having them around. You mentioned how you've sort of lost that when you moved but it is not hard to see that all the decisions you make is to ensure the best possible outcome for Amelie and Juan Miguel.
TONY AND NIKOLA
I miss you both more than you know. Nikola, you have an incredibly special family. There was a huge language barrier between us and your parents and their respective partners but you could feel how much they care about you and Tony. As well as how willing they are to extend that love to the people important to you both. Sixth months is the longest time I've ever been away from you Tony but the day I arrived to Ceske Budejovice really felt like no time had passed. You two were living your lives in a different country and had this new routine but part of me still felt like you were both back home and we were bickering about little things. I think when we originally said goodbye in Ecuador, I wasn't so sentimental about it because part of me knew that I would visit you both soon, even before I had the actual plan to do so. But now it hits harder because while I'm positive I will see you guys again, there is this feeling of uncertainty. Mainly because I cannot predict how long it will be until then. Snix, I hope you never lose your impulse to learn about new things and the way you see your actions and how it impacts those around you as being bigger than yourself. Tones, I really miss your unwavering generosity, the way you offer support to all of us back home without hesitating even when you are all the way over there. I hope you never lose that quality of your personality. I love you both more than you know.
Emil and Daphne
I could not have imagined a better way to spend my last days in Europe than the way I did with you both. The capacity you both have to talk about something serious while at the same time not taking yourselves too seriously is what I respect the most about the two of you. The amount that we laughed was too much to bear at times but I hope you both always keep this amazing sense of humor. I had the chance to see things with the two of you that I saw last time I was in Denmark like the Louisiana Museum and Christiania as well as new things like Reffen and Tivoli, with my friend Thorbjorn. I also appreciate you both putting up with my awkwardness on a bike as we rode around Copenhagen. I know that I slowed us down a bit at various points. This was a sight in itself. Emil, thank you for all your facts and history about the city as well as taking me to try the most decadent hotdogs. Ones that outshine the States in almost every aspect. Daphne, thank you for your open honesty about everything and for being the most hospitable person our age that I have ever met. I am certain that won't be my last time in Denmark.
Clement
I can't thank you enough Clem, the best memories I made on this entire trip were because of you. When we first hung out at a Yankees game and at a Passafire concert almost two years ago, I didn't think I would see you past your time in New York. Thank you for showing me your home in Arras and taking me to see Lille, Bruges, Cassel, Versailles and even Sainghin-en-Weppes (the city that never sleeps). Celebrating La Fête de la Musique in Paris with you, Mathilde and Jessica is an experience I'll never forget and I have my stained white shoes to remind me. I've never encountered so many people outside dancing and the way you can find live music being played on almost every block throughout the day and into the night was really something else.
Learning to play pétanque with you and Valentin as well as celebrating his birthday with him, his family and friends is something I doubt I would have experienced had I been by myself. I want to thank your mom Isabelle for her warmth and how welcoming she was. I'm thankful for all the home cooked meals because this is the thing I usually miss the most when traveling. The grenouilles and the tartiflette she made were two things I loved that I don't know if I'll ever have the chance to eat here in New York. The cheese is on another level and if I wrote about all the ones that I enjoyed, the list would be too long. The best moments were spent in your dining room listening to the conversations between your mom, Quentin and your friends. Of course there was so much I did not understand but the more we sat there, the more I felt like I was beginning to learn French and the more I found it an incredibly beautiful language.
I originally wanted to create this journal entry after I left France because Arras was the one place during that trip that I wanted to stay in for as much time possible. When I was not in France though, I found it difficult to write about because I felt like I had not really left. After visiting Czech Republic and Spain, Jonas and I stopped by Antoine's to watch the Uruguay vs. France match with you and all your friends. The enthusiasm you all displayed when you won that game was full of so much energy. After that day we said that if France is in the final I would come back. I was in Brussels watching Belgium vs France and rooting for the French team to win. I couldn't display it so openly considering I was surrounded by Belgians, but the moment France won I bought my ticket to go back to Arras for the World Cup final. This was the best decision I could have made.
You picked me up from Lille and we headed for Arras to watch the game in the main square. All the chants and people cheering had this effect on me. One where I was cheering along with you guys but had no idea what I was saying nor if I was saying it right. It was just this adrenaline of being surrounded by all these people who had so much passion and pride for their team. The score was 4-2 but even before the match ended people could not contain themselves. They chanted, screamed and threw their drinks in the air. When I saw you, your eyes watered and I felt why people are so passionate about this sport. The rest of the night people filled the streets cheering and celebrating. Being in Arras for France's victory in the World Cup Final was the best way I could have spent my last days in France. I left two days later and this time when I said goodbye, there was much more weight to it because I knew that I would not return, at least not during this trip. I've been lucky enough to travel to several places these past months and within the last two years but my time in France is unmatched. I'm grateful to have found a brother in you.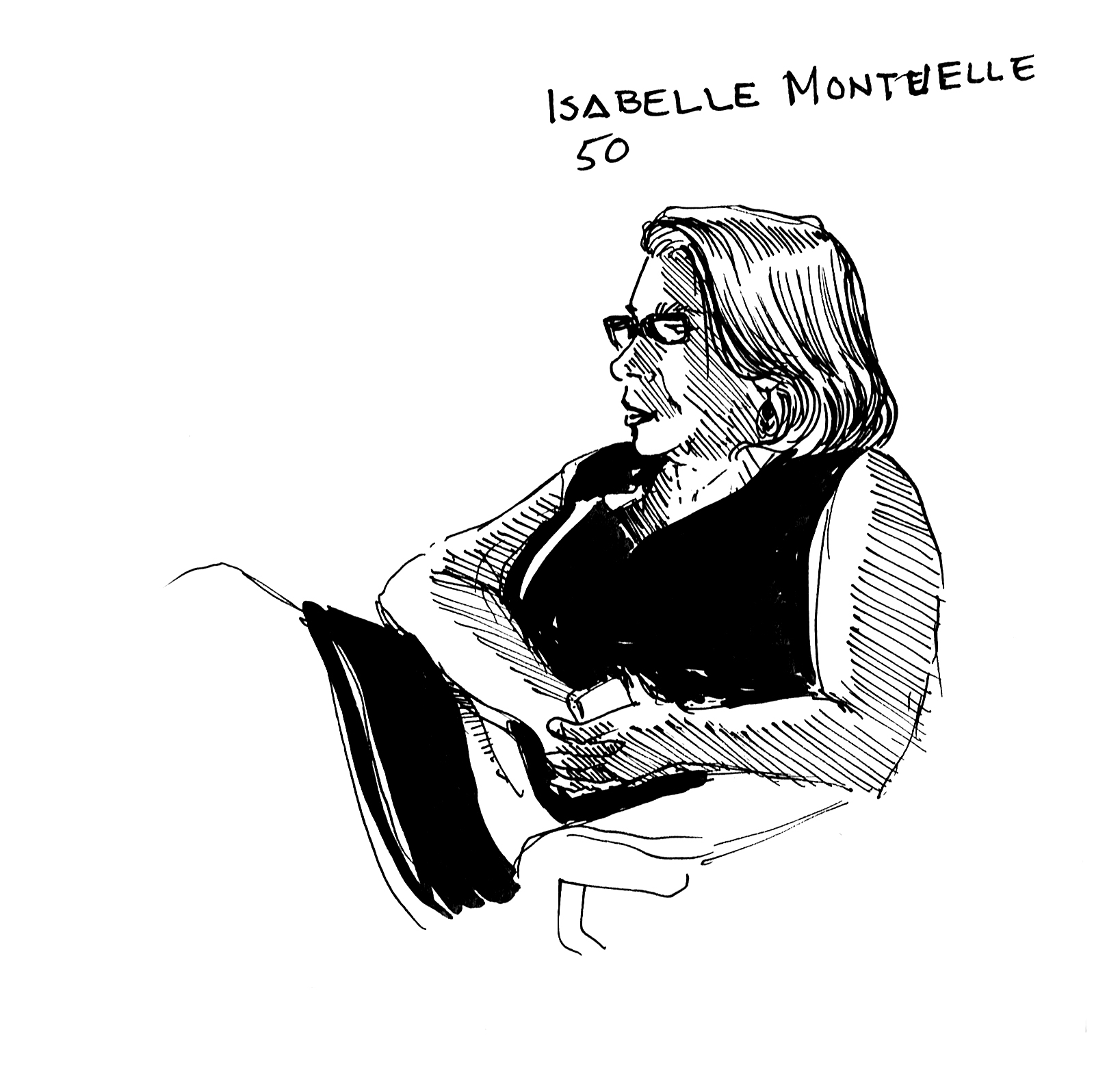 If I only wrote about the things I saw, it wouldn't represent my trip in the way I would like it to but if I thanked every single person I met, this post would be never ending. To all those people who I haven't mentioned, who showed me their cities, introduced me to new people and gave me new experiences, thank you. Those are memories I will always hold on to. As an illustrator, this trip gave me two sketchbooks that acted as my camera filled with memories and stories front to back. I've only been back for a week now but I'm certain that all the things I create moving forward will be to work towards my next trip.